What's New at BasketMakers


From the Hands of a Weaver: Olympic Peninsula Basketry through Time
by Jacilee Wray



Antler Art for Baskets and Gourds
by Betsey Sloan



Weaving on Gourds
by Marianne Barnes
(Paperback)



Gourds + Fiber: Embellishing Gourds
with Basketry,
Weaving, Stitching,
Macrame & More
by Ginger Summit and Jim Widess



Basket Inspiration
for Makers and Collectors
by Billie Ruth Sudduth
(Hardcover)

Other basketry books by
Billie Ruth Sudduth



Pine Needle Basketry:
From Forest Floor to Finished Project
by Judy Mallow
(Paperback)

This classic text in basket-making, now in paperback



Plaited Basketry
with Birch Bark
by Vladimir Yarish, Flo Hoppe, Jim Widess




North by Northeast
Wabanaki, Akwesasne Mohawk, and Tuscarora Traditional Arts
(Paperback)
by Kathleen Mundell (Author)




A Basketmaker's Odyssey:
Over, Under, Around & Through:
(Paperback) by Lyn Syler (Author), Carolyn Kemp (Illustrator)




Celebrating Birch
The Lore, Art, and Craft of an Ancient Tree
by The North House Folk School



More Basketry Books
New Basketmakers Journal
The world wide web has changed markedly since the beginning of BasketMakers.com back in 2001. A new lexicon of web technologies has developed since that time and in hopes of staying current I have been working intently on a variety of means to keep you up to date on the news of the basketmaking community. I have also been working on extensions of the main site onto YouTube, Google Calendar, Facebook, Twitter and Flickr. Stay tuned. As I move forward entries to this "What's New" page will be replaced by postings to the Journal. I will welcome your feedback on these new features. Add the posts, the comments or both to your feed reader by choosing "Subscribe to" on the right column of the journal.
San Bernadino County Museum
Several hundred baskets from Southern California are in the permanent Anthropology - Ethnology collection of this museum. Host to a 2010 major exhibition of southern California baskets, "Generations of Symbols". Search the collection for Cahuilla, Serrano, Cahuilla, Tipai, Maidu, Diegueno, Chemehuevi, Kawaiisu, Klamath, Luiseno baskets of juncus, sumac and other native natural basketry materials from California.
More Museums
Misti Washington Gourd and Basketry Guild Newsletter
The MWGBG newsletter is published bi-monthly in January, March, May, July, September and November. The editor welcomes your submissions of articles related to gourd and basketry art. Submissions are due by the first day of the month prior to publishing.
More Call to Entry
Basket Bases by Rusty
Stock and custom bases for basketry are available in solid cabinet grade hardwoods like oak, cherry, walnut, maple, poplar and ash as well as several grades of plywood. Choose round, oval, square, rectangular or specialty shapes.
More Basketry Supplies
Fall in Love - Free Basketry Pattern
Sheri L. Van Duyn has authored a free basketmaking pattern available on the Pattern Exchange of Just Patterns Magazine featuring autumn colors of dyed round and flat reed that is embellished with cut out gourd in the shapes of fall leaves and bittersweet berry pips.
More Free Basketry Patterns
Marlien K. Hennen
Marlien gathers her own red cedar bark in summer and three to six months later processes it into strips, a very labor intensive task, creating wall hangings, lamps, hats, container baskets, bags, pots and more. She loves to hike on the beaches and in forests to gather the materials that she incorporates into her weaving. She offers finished baskets, materials including raw and prepared red cedar and workshops.
More Cedar Basketry and More Basketmakers
Eric Taylor (new personal site)
Eric lives in central New Hampshire and has been involved in traditional basket making for over twenty years. His love for working with wood and the black ash tree inspired him to experiment further in the art, where he started creating his own contemporary designs that combined the elements of the Shaker and Nantucket baskets.
More Black Ash Basketry and More Basketmakers
Remembering Ceil Silver (1945-2009)
The daughters of this New York state basketmaker, adept photographer and in her "other life" FoxPro developer offer a touching remembrance of Ceil who has lost her battle with cancer.
Museum of Arts and Design
The Museum of Arts and Design in New York City collects, displays and interprets objects that document contemporary and historic innovation in craft, art and design. In its exhibitions and educational programs, the Museum celebrates the creative process through which materials are crafted into works that enhance contemporary life. Search their collection of contemporary baskets to see works by Dorothy Gill Barnes, Nancy Moore Bess, Linda Bills, Ken Carlson, Michael Davis, Lillian Elliott, John Garratt, Mary Giles, Pat Hickman, Honda Syoryu, Diane Itter, Kiyomi Iwata, Mary Jackson, Ferne Jacobs, Gyöngy Laky, Dona Look, Tom McColley, John McQueen, Mary Merkel-Hess, Leon Niehues, Francina Prince, Fran Reed, Ed Rossbach, Jane Sauer, Kay Sekimachi, Sylvia Seventy, Karyl Sisson and others.
More Museums With Significant Basketry Collections
Shannon Weber
This Cottage Grove, Oregon basketmaker's work uses a heavy mixture of found and gathered objects such as Beaver chewed sticks, domestic cast offs, reclaimed metal, sea kelp, rattan, canvas, wax linen, sea grass and sea grass roots encaustic, acrylics, and over dyes. She creates pieces that she describes as primitive forms of weaving tweaked into "new" aboriginal forms for the current millennium.
Jamin Uticone
Traditional basketmaker from Alpine, NY creates black ash back packs, vegetable-tanned bridle leather strapped baskets and a range of storage baskets including replications of Taghkanic swing handled apple baskets.
More Black Ash Basketry and More Basketmakers
Billy Ray Sims
Alabama basketmaker with a focus on traditional baskets, primarily of white oak, which he harvests and splits himself. His work also includes baskets of New England black ash and South Carolina sea grass. Member of Alabama Designer Craftsmen, Southern Highlands Craft Guild, and Mammoth Cave Basket Makers Guild, Kentucky.
More White Oak Basketry and More Basketmakers
Friends of Fiber Art International (USA-IL)
This organization believes fiber art is the collectible of the 21st century and they work to help collectors find it. They facilitate opportunities and programs for the education of potential collectors and award grants to support professionally-mounted exhibitions with catalogs of soft sculpture and wall works. Works called "fiber art" include (but are not limited to) sculptural baskets, quilts made for the wall and the first fiber art, tapestry.
More Basketry Organizations
Rockport Publishers and Quarry Books
This company publishes instructional books in a range of categories: Design Crafts and General Reference. Their site discusses the type of information that should be included in a book proposal.
More Call to Entry
Stephen Zeh
Maker of award winning baskets handcrafted of Maine brown ash in the tradition of the Maine woodsmen, Shakers and Native American basketmakers. Miniature, swing handle baskets, pack baskets, creels, purses, carriers and lidded baskets. New personal site.
More Basketmakers and More Black Ash Basketry
Mary Jackson - 2008 Winner of the MacArthur Fellowship
Charleston Sweetgrass basketmaker wins the $500,000.00 genius award for her lifetime of pushing the centuries-old craft of sweetgrass basketry in new and remarkable directions. On November 10, 2008 it was announced that Mary has also been awarded the USA Donnelley Fellowship in Crafts and Traditional Arts by United States Artists. USA Fellowships, unrestricted grants of $50,000 are awarded to artists who demonstrate artistic excellence, unique artistic vision, and significant contributions to their fields. The program honors artists at all stages of their careers, from emerging to mid-career to established figures in their fields.
More Basketmaking in the Press
Deborah Gabriel Brooks
This Passamaquoddy basketmaker born on the Passamaquoddy reservation at Indian Township in Maine, but now transplanted to Arizona learned to weave brown ash splint and sweetgrass baskets from her basketmaker mother, grandmother, aunts and other relatives.
Grass Roots: African Origins of an American Art - Touring Exhibit
This exhibit organized by the Museum for African Art in collaboration with the Avery Research Center for African American History and Culture at the College of Charleston and the McKissick Museum at the University of South Carolina features approximately 225 objects including baskets from the Lowcountry of South Carolina and Georgia and from diverse regions of Africa, as well as African sculpture from the rice-growing societies which, through the agency of the trans-Atlantic slave trade, exported their cultures to America. Will open in New York in 2010 as one of the inaugural exhibitions at the Museum for African Art's new building in Harlem. Grass Roots: African Origins of an American Art is available for travel.
More Touring Basketry Exhibits Available for Booking and More Basketry Books
It Will Live Forever: Traditional Yosemite Indian Acorn Preparation
by Beverly R. Ortiz (Author), Julia F. Parker (Author)
This book focuses on the gathering and preparation of acorns and the many baskets that are intimately involved in the process as told by Julia F. Domingues Pete Parker, granddaughter of noted basketmaker Lucy Telles. (Paperback)
Remembering Lois Rainwater (1920-2008)
Bronwen Aker, granddaughter of this accomplished Californian basketmaker and teacher offers a touching remembrance.
Feature Article About Polly Adams Sutton in HGA
Kevin V. Wallace is the author of an artist profile about Polly and her cedar bark basketry in the Handweaver's Guild of America publication, SHUTTLE SPINDLE & DYEPOT, Volume XXXIX No. 2 Issue 154 Spring 2008. Polly's work is also featured on the cover of 500 Baskets.
More Basketmaking in the Press
Lisa Head
This central Pennsylvania basket artist who grew up in Kentucky uses natural materials such as black willow bark, broomsedge, white oak, hickory bark and rye straw to create coiled and plaited baskets. Her work includes plaited rye straw dough rising baskets, storage hampers and bee skeps in the Pennsylvania German tradition and plaited bark baskets from the Appalachian tradition.
More Basketmakers and More Bee Skeps
Jeanne Drevas
This working basketmaker and installation artist from Rappahannock County, VA uses bark sheets and other native natural materials she gathers near her home in the Blue Ridge Mountains of Virginia to create basket forms and full scale sculptural installations. Her work is also represented at Jane Sauer Gallery.
More Basketmakers
Tradition/Innovation:
American Masterpieces of Southern Craft and Traditional Art
This major endeavor includes a traveling gallery exhibition as well as an online presentation. The extensive online presentation features artist interviews, podcasts, visual galleries and national arts education standards based learning materials. Be prepared to stay a while if you visit the site. Participating basketmakers include Clay Burnette, Herburt Jerome Dixon, Yvonne Grovner, Bessie Johnson, Mary Jane Prater, Henrietta Snype, Billie Ruth Sudduth, Leona Waddell and Carol Welch.
More Basketmaking Events and Basketry Events Calendar
Bill & Mary Ann Smith (profile at very end of article)
White oak basketmakers from Alabama working in traditional split oak. They also do some work with hickory and poplar bark. They are the resident basketmakers at Tannehill Historical State Park in Alabama and also teach at John Campbell Folk School in the N.C. mountains. Reach them directly by email oakweaver(at)bellsouth.net
Clear Lake Basketweavers Guild (USA-TX)
Clear Lake Basket Weavers Guild (CLBWG) exists to encourage and perpetuate the art and skills of basket weaving in Houston, Galveston and surrounding areas of Texas.
More Basketry Organizations
Wendy G. Jensen
Traditional basketmaker from Great Barrington, MA. Produces high quality traditional and utilitarian baskets from rattan. Offers workshops in the Berkshire Mountains of Massachusetts.
More Basketmakers
Dona Anderson
Using round reed, wrapped with raffia or pattern paper this Washington state basket artist creates contemporary sculptural pieces by stitching each reed to the preceding one until the desired shape is completed.
More Basketmakers
Arlene Skinner
Using the naturally cured wild beach rye grass from the region near her home on Kodiak Island, Alaska Arlene twines contemporary woven baskets and art pieces that have roots in the renowned Aleut basketry of the Aleutian Islands.
More Basketmakers
Making A Folded Bark Basket
Ken Peek offers a free illustrated tutorial that will teach you how to make a basket from folded and stitched bark. Poplar, ash, pine or other conifer barks can be adapted to this basket form.
More Free Basket Patterns and Native Naturals Basketmaking Tutorials
Beyond the Basket
This exhibit hosted by del Mano Gallery in 2007 showcased the work of established and emerging fiber artists and basketmakers including Dona Anderson, Jan Buckman, Jeffrey Lloyd Dever, Stephen Johnson, Gerri Johnson-McMillin, Aaron Kramer, Jennifer Falck Linssen, Marilyn Moore, Debora Muhl, Dennis Nahabetian, David Peters, Jill Powers, Michael F. Rohde, JoAnne Russo, Elizabeth Whyte Schulze, Jack Slentz, Polly Adams Sutton and Ema Tanigaki.
More Online Basketry Exhibits
Nakia Wigfall
Multigenerational Sweetgrass Basket-maker of Mount Pleasant, South Carolina. She is the Executive Director of Mount Pleasant, South Carolina's Sweetgrass Cultural Arts Festival. Her work is profiled in this online video.
More Basketmakers and More Gullah Sweetgrass Basketry
Dona Look
Birch bark basketmaker from Wisconsin uses white birch bark to create sculptural plaited, paneled and stitched baskets that have a classical, yet contemporary feel. Dona recently participated in Craft in America (book) and is a featured artist in 500 Baskets.
More Basketmakers
Jennifer Heller Zurich
Contemporary basketmaker from Berea, KY uses black willow bark collected near her Kentucky home to weave, plait and twine baskets that evoke tradition while appearing timeless. She exhibits in juried shows nationally and she offers workshops in the materials and techniques she employs.
More Basketmakers
Basketmakers Face Stiff Competition from Knockoffs
Charleston's sweetgrass basketmakers are finding it difficult to compete with baskets made in China. Lowcountry sweetgrass basket "sewers" are concerned about cheap knockoffs from abroad. This article includes tips about some of the telltale characteristics of an import so that collectors can recognize the difference between the two.
More Gullah Sweetgrass Basketry
Basket-Weaving Is Threatened in South Carolina
This news story from AP about how rapid development has negatively impacted Gullah Sweetgrass Basketry includes a multimedia slide show and a series of still photos that feature African American basketmakers Nikia Wigfall, Alma Washington, Henrietta Snype and others from in and around Charleston, Mount Pleasant and along U.S. Route 17 in SC.
More Gullah Sweetgrass Basketry
Craft In America
A major project that documents the journey to the origins, artists and techniques of American crafts includes a 3-part PBS series, national touring exhibition, major publication and an online presentation. Basketmakers Dona Look (also see), Pat Courtney Gold, Ed Rossbach, Karyl Sisson, Billie Ruth Sudduth and Mary Jackson are featured among the craft artists profiled. Other fiber artists including Jane Sauer, Nettie Jackson, Leah Danberg, Kay Sekimachi and Carol Eckert have work pictured in the fiber section and will participate in the CRAFT IN AMERICA: EXPANDING TRADITIONS traveling exhibition. Watch for the new season.

Jennifer Falck Linssen
Full time studio artist living in Boulder, CO creates sculptural vessels she calls "katagami baskets©". They combine basketry traditions and classical forms with pictorial katazome style handcarved stencils in paper and metal.
More Basketmakers
Elizabeth Whyte Schulze
This Worthington, MA artist creates contemporary basketry sculpture by coiling natural materials such as pine needles, reed and raffia, into varied shapes. Once each basket is completed she covers the surface with acrylic paint using dots, washes, stylized human figures and marks often inspired by petroglyphs (ancient markings pecked on stone). She exhibits in juried shows nationally and her work is represented in prominent galleries such as Mobilia Gallery, James Gallery and Del Mano Gallery. She teaches workshops and delivers lectures on basketry at locations including Snow Farm, Fuller Craft Museum and Fiber Arts Center.
More Basketmakers, Coiled Basketry and Art Basketry
Caroline Gregson
UK willow sculpture artist and basketmaker creates traditional baskets, screens, wall pieces and random weave willow pieces in animal and human forms.
More Basketmakers, Willow Basketry and Basketry in the UK
Charles Weber
Coiled pine needle basketmaker from Ellis Grove, Illinois. His baskets are made with Long Leaf Pine Needles, Black Walnut Slices, Bass Boards and Nylon Threads.
More Basketmakers and Pine needle basketry
Porcupine Mountains Folk School - Call for Instructors
The School is run by the Friends of the Porkies in cooperation with the Porcupine Mountains Wilderness State Park in Ontonagon, MI. Porcupine Mountains Wilderness State Park is located on the southern shore of Lake Superior in the Upper Peninsula of Michigan. They sponsor workshops in tune with their natural materials, wilderness and primitive skills approach. An Artist-in-residence program is also available.
More Call to Entry
Westchester Area Basketry Guild Call for Basketmaking Workshop Leaders
Contact their workshop coordinator if you are interested in submitting a teacher proposal for their periodic workshops and basketry programs.
More Basketmaking Calls to Entry
Lucreaty Clark - White Oak Basketmaker
Lucreaty Clark talks about making white oak baskets. Audio recordings, transcripts, photos and lesson plans are included in this presentation by the Florida Folklife digitization and education project.
More White Oak Basketry
Mills College Art Museum
This Oakland, CA museum's collection of approximately 150 Native American baskets is particularly rich in works by California's native peoples. In particular, the collection of Pomo baskets exhibits a variety of size, function, weave and decoration. Many of the baskets are from the Yurok, Korok and Hupa tribes of northernmost California.
More Museums With Significant Basketry Collections
Micro-Mesh Cushioned Abrasives
Washable and reusable abrasives are great for sanding basket handles and rims. Unique cushioning design results in extended abrasive life, the best surface finish possible and fewer steps. Conforms to the shape while providing even pressure against the surface. These 2'' x 2'' Soft-Touch Micro-mesh pads are one of my favorite basketmaking tools.
More Basketmaking Tools
How to Weave Hawaiian Coconut Palm Fronds
This step by step guide to weaving with palm fronds was authored by Jim Widess. Projects include a round basket, a square basket, a traditional palm frond hat, a trio of hanging baskets, a bird, two fish, a grasshopper and a rose. Spiral binding allows the book to lay flat. 72 pages. Published in 2006.
More Basketry Books
Artisan Center at Maple Creek
Moscow, OH. This location near Cincinnati, Ohio offers traditional artists with a permanent location to display, promote and demonstrate their crafts. Students can learn the techniques needed to create traditional handcrafted work such as basketry, brooms, pottery, blacksmithing and woodworking.
More Where to Learn Basketry
Institute for American Indian Studies
This museum, education and research center in Washington, CT is dedicated to the study of the indigenous peoples throughout the western hemisphere, particularly those of the Eastern Woodlands. Their ethnographic collections and events include basketry. The Institute also houses both an education and research library, containing over 2,000 books and journals which is open to researchers by appointment.
More Places to See Basketry
Katherine Lewis
Willow basketmaker located in the Skagit Valley of Washington State, USA. She has a small farm named Dunbar Gardens where she grows much of the willow used in her baskets. She offers finished baskets, willow basketry supplies including live cuttings for planting, willow basketry workshops and willow basket making demonstrations. Her site includes photos of the cultivation of numerous varieties of willow for basketweaving.
More Basketmakers and More Willow Basketry
Mille Lacs Indian Museum
This museum and trading post focusing on northern Minnesota's Mille Lacs Band of Ojibwe Indians. They offer history and cultural events at their location in Onamia, MN. Birch Bark, Black ash and Sweetgrass basketry workshops are frequently offered in their educational programs calendar.
More Basket Making Workshops and Museums Featuring Basketry
Southwestern Community College
The Eastern Band of Cherokee Indians (EBCI) unveiled November 13, 2006 that an Associate in Fine Arts program focusing on Native American art is to be offered in collaboration with Southwestern Community College. The program is to be offered at the Oconaluftee Institute for Cultural Arts (OICA) in Cherokee. The studio arts curriculum offerings will include both contemporary and traditional Cherokee arts such as basketry/weaving, pottery, beadwork, mask making, sculpture, woodcarving, and stone carving.
More Where to Learn Basketry
Lilly Baker, Maidu Basketmaker dies at age 95
This basketmaker from a prominent Californian basketmaking family will be remembered for preserving the art of Maidu basket weaving. Contributions may be made to a memorial scholarship fund for young weavers through the California Indian Basketweavers Association, P.O. Box 1348, Woodland, CA 95776-1348.
Shaw and Tenney Maine Pack Baskets
Handmade in Maine, using hand pounded brown ash, ornamental weaves and hand cut leather harnesses, each pack basket is unique. They offer conventional pack baskets, covered baskets, and trout and boat creels. They can have custom made, very special baskets in a 1/8" weave.
More Adirondack Pack Baskets
Pat and Butch Bramhall - Stonehouse Silversmiths
This basketmaking couple from Croghan, NY create miniature, small scale and up to life size Adirondack Pack baskets, fishing creels and other baskets woven of precious metals such as sterling silver and gold.
More Basketmakers More Adirondack Pack Baskets
Michael Kane
This on-island Nantucket Lightship basketmaker learned his craft from his grandparents, Mr. and Mrs. William Reis, Sr. His work is known for its tight weave, lavish use of ivory carvings, scrimshaw, unique forms and impeccable craftsmanship.
More Basketmakers, More Nantucket Lightship Basketry
Peggy Wiedemann
This basket artist from Huntington Beach, CA uses natural fibers and gourds to create coiled sculptural baskets. She personally gathers many of her materials, such as pine needles and palm fibers. To these natural materials, she adds metal, beads and "found" objects to form unique pieces. Using these traditional materials and the classic basketry technique of coiling in unorthodox ways, she creates pieces uniquely hers.
More Basketmakers, More Gourd Basketry, More Coiled Basketry
David Hembrow (URL update)
This traditional English willow basketmaker from Cambridge, UK is part of a multi-generation family of basketmakers. A variety of traditional willow baskets are offered including bicycle, shopping, pet, flower, laundry baskets and a wheeled willow shopping basket made by David's late father, Gordon Hembrow.
More Basketmakers and Basketry in the UK and Willow Basketry
Siletz basketmaker keeps the art alive
Siletz basketmaker Bud Lane discusses how he works to keep the basketry traditions of his ancestors alive in this article from Indian Country Today. He makes cradle baskets, ceremonial hats, cooking baskets and working baskets for carrying such things firewood, roots and clams using traditional hand gathered natural materials such as hazel sticks, spruce roots, maidenhair fern, bear grass and woodwardia fern.
More Basketry in the News
Eastbridge Willows
This company, based in Surrey, England provides courses and supplies for willow basketry. Willow varieties available are suitable for basketry, craft and willow sculpture. Set in beautiful Hampshire countryside, on the banks of the River Hart, Eastbridge Willows is now an established centre for crafts and willow horticulture in the UK.
More Basketry Suppliers
Bases To Weave
Candace Katz and Debbie Hurd have joined together to bring hand crafted wooden basket bases and quality hardwood components for baskets to basketmakers everywhere. Basketry bases are available in single slotted and double slotted styles in a variety of shapes including round, oval, rectangular, square, with and without attached handles. Also available, drilled plywood basket bases, handles, patterns (including a monthly free pattern) and other basket weaving supplies. Custom sizes are available.
More Free Basketry Patterns and Basketry Suppliers and Basket Bases
Reversible Tapestry Crochet Basket
Carol Ventura offers this free pattern for a basket made using a tapestry crochet technique. Carol's books Tapestry Crochet and More Tapestry Crochet will help you learn this technique if you desire more instruction than what is offered in the project sheet.
More Free Basketry Patterns and Crochet Baskets
Ohio Valley Basketweavers Guild (USA-OH)
Membership organization open to all of those interested in basket weaving. All levels of weavers are invited to attend. Meetings are normally held on the third Thursday of each month.
More Basketry Organizations
Basketmakers of the West Midlands - UK
A small self-help group of basketmakers and allied crafts with members from a number of locations in the West Midlands that would be happy to welcome anybody with similar interests to join the group.
More Basketry in the UK and More Basketry Organizations
California Indian Baskets
Shop from a constantly changing selection of Californian antique baskets such as Hupa, Karok, Yurok and Pomo hats, mush bowls and storage baskets.
More Basket Collecting
Weaver's Words Is Back
A site of general basketry interest featuring weekly digests of messages from members previously maintained by the late David Collins. Bonnie Easterbrooks-Krist has taken up the task and will work to keep David's legacy alive.
More Virtual Basketry Community
Felco Ergonomic Pruner F-11

Willow basketmakers depend on high quality pruning shears with a ratcheting mechanism to cut even those larger withes. This vendor offers many Felco pruners. A leather Felco Belt Pruner Holster
will complement them all.
More Basketry Tools and Basketweaving Supplies
His and Her Crafts - Drilled Wooden Bases for Pine Needle Baskets
Pine Needle Basket Bottoms that are pre-drilled, sanded and ready for coiling for your Pine Needle Basket projects. Available in woods such as Arariba (Canary wood), Bubinga, Jatoba (Courbaril), Mahogany, Maple, Myrtlewood, Oak, Padauk, Purple Heart, Teak, Walnut, Wenge and Zebra wood.
More Pine Needle Basketry Supplies
Michelle Cain
Willow sculptor and basketmaker from Wales, UK. Watch as she creates environmental sculptures such as her 26 foot high wicker otter which stands at the Welsh Wildlife Centre at Cilgerran, near Cardigan. She also make baskets and teaches both adults and children.
More Basketmakers, More Willow Basketry and More Basketry in the UK
Beginner Muffin Basket by Linda Clifton
A pattern for a basic reed cross-spoked round basket with dyed accent colors and a seagrass rim filler one of several free beginner basketry patterns from The Country Seat.
More Basketry for Beginners and More Free Basket Patterns
Pomona College Museum of Art
This museum is in Claremont, CA. Pomona College's superb collection of almost 5000 Native American artifacts is particularly rich in Californian and Southwestern basketry with over six hundred examples in their searchable photographic database.
More Museums with Significant Basket Collections
Beaded Crochet Jute Basket
A free crochet basket pattern from Donna Hulka made with 2-ply jute twine and decorative beads of your choice.
More Free Basket Patterns
Leandra Spangler
This basket artist from Columbia, MO creates contemporary vessels that are reed forms covered with highly textured handmade paper. She weaves the form as an armature for the application of highly textured handmade paper. A hand polished graphite emulsion creates a luminous protective surface. Her vessels are shown across the country at invitational and juried exhibitions. She teaches workshops at a variety of venues including her own studio in Missouri.
More Basketmakers
Joli Greene
This Maine fiber artist is the founder and owner of Greeneleaf Studios. The studio in Freeport, ME offers a unique mix of workshops for adults in the arts and nature. Basketry, hand-made books, decorative papers, masks and spinning for all levels are among the pursuits followed here.
More Basketmakers
Free Online Graph Paper Generator
Square, hex, calendar, tumbling blocks, dots, diamonds, music notation staff, lined paper, penmanship practice paper and more can all be generated into customized .pdf documents in your choice of grid size and colors with this online free graph and grid paper generator. Great for design exercises and plotting out twill weave patterns.
More Basketry Business Resources
TaleWeavers
Chair caning repair and wicker furniture restoration company in Erie, PA offers services including repairs to chair seat cane webbing, strand caning, paper fiber rush, twisted seagrass, wicker restoration and wicker refurbishing.
More Chair Caning Supplies, Services and More Wicker
Pine Needle Basket Bottoms
Drilled oval and round basket bottoms for pine needle and other coiled basket weaving that are hand cut from fine birch plywood in designs including cats, dogs, sea life, birds, etc.
More Basketry Supplies and More Basket Bases
Suzanne Shafer-Wilson
Basket artist from Lostant, Illinois creates wire needle lace vessels in copper and precious metals.
More Basketmakers
BasketBases.com
Jeff's Wood Shop located in Cedarburg, Wisconsin supplies stock and custom solid wood bases for baskets. You will find oval basketry bases, rectangular basket bases, semi-oval basket bases, round basket bases, square basket bases, baby cradle basket bases, winter sleigh bases, wood lids for baskets, basket base dividers, basket feet, double slotted basket bases, drilled basket bases and keyhole bases for baskets in a variety of wood types like oak, aspen, cherry and pine in unfinished and pre-finished.
More Basketry Supplies and More Basket Bases
Jo Stealey
View the personal site of this exhibiting basket artist who is also an Associate Professor in the Department of Art at the University of Missouri-Columbia. Included you will find a portfolio, artist statement and curriculum vitae.
More Art Basketry and Basketmakers
Mary Merkel Hess
The Iowa Women Artists Oral History Project presents a profile of this fiber artist/basketmaker. The profile includes a biographical sketch, audio interview clips, an artist's statement and images of some of her work.
More Art Basketry and Basketmakers
Coiled Yarn Basket - Free Coiled Basket Pattern
Learn the skill of coiling a basket with these free online instructions. This tutorial for beginner basketmakers is provided by Pacon Creative Products and includes a black and white printable version.
More Free Basketry Patterns
Alison Fitzgerald
Irish willow basketmaker, teacher and proprietor of Greenwood Baskets in Co. Tyrone, Northern Ireland. Her work has been featured in exhibitions throughout the United Kingdom and Ireland.
More Basketmakers and More Basketry in the UK
Santa Barbara Museum of Natural History
Holdings at this museum include some 100 archaeological specimens and 44 ethnographic pieces making the collection of rare Chumash basketry and fiberwork among the best in the world. Research is being conducted on ethnology and ethnobotany topics. An extensive library is available to researchers.
More Places to See Basketry
White River Apache Cultural Museum
TUS AND TATS'AA: Apache Basketry Through Time is an ongoing presentation of the role of baskets in the lives of the White Mountain Apache in Arizona.
More Places to See Basketry
Tina Charlie Basket Sells at Auction for $336,250.00
A new world record price was set for a Native America basket sold at auction. An unidentified successful bidder paid $336,250, three times the Bonhams pre-sale estimate, for a 1929 Paiute polychrome basket of degikup form by Tina Charlie, offered from the collection of Mrs. Ella Cain. A second Tina Charlie basket sold for $248,250 in the successful Native American auction that totaled $2.8-million.
More Basket Collecting
Catalog of Baskets Available for Sale at Gatekeeper Museum
The Gatekeeper's and Marion Steinbach Indian Basket Museum Store of Tahoe City, CA offers a selection of vintage and contemporary baskets for sale from such renowned weavers as Dat-so-la-lee, Maggie Mayo James and Sarah Mayo.
More Basket Collecting
Natural Black Dye
A tutorial from Primitive Ways authored by Dino Labiste provides instructions to help you learn how to dye your basketry materials or other fiber a deep rich black color using water, tannins and iron.
More Tips and Tutorials and Dyeing
Dried Straight Sweetgrass Hanks and Live Sweetgrass Root-Plugs
Do you need dry unbraided straight sweetgrass for basketry? Have you been looking for sweetgrass sod-plugs for sale? Would you like to start your own sweetgrass plot? Brenda Gordon and her husband run Avalon Farm, a family-owned organic farm business located in the beautiful Shenandoah Valley of Virginia. They grow all-natural fragrant sweetgrass (heirochloe odorata), sometimes called vanilla grass, It is perfect for basketweaving and other craft projects. They also offer braided sweetgrass, colored broomcorn, gourds and lavender.
More Basketry Supplies
Leelanau Historical Society Museum
Traditional Anishnabek Arts display in this Leland, Michigan museum features their signature collection of black ash baskets and quillwork on birch bark which are primarily the work of the Leelanau Peninsula's Odawa artists. In addition to the exhibited collection, there is a study collection that is available for close examination by researchers.
More Places to See Basketry
By Native Hands: Woven Treasures from the Lauren Rogers Museum of Art
The long awaited reinstallation of the Catherine Marshall Gardiner Native American Basket Collection, one of the most significant collections in the east is reality. LRMA will publish a 300 page catalogue of the entire collection.
More Places to See Basketry
Carriers of Culture
Michigan State University Museum and the Smithsonian Institution's Center for Folklife and Cultural Heritage, in partnership with Native American basketmakers organizations, are in the planning stages of developing Carriers of Culture: Living Native Basket Traditions, a multi-faceted project that will include a major traveling exhibit and a special program at the 2006 Smithsonian Folklife Festival, held on the National Mall in Washington, D.C.
More Basketry Events
Cherokee Basket Designs
Graphed versions of several designs for twill plaited single and double weave Cherokee baskets.
More Free Basket Patterns and Instruction
Craft Coiling Core
Looking for the soft white paper firm yet flexible cord that you use as a core for coiled baskets? This fiber wrapped craft cord designed for coiled basket projects is available in 1/4", 1/2" and 3/4" sizes.
More Basketry Supplies
DINE BITS'AA' BAHANE: The Story of Navajo Baskets
A traveling exhibit about the history, symbolism, manufacturing processes, and new directions in Navajo basketry. Made available for booking by the Anasazi Heritage Center.
More Traveling Basketry Exhibits For Hire
Dyed and Natural Porcupine Quills
JTV Feathers offer a wide selection of colors and natural porcupine quills and an assortment of feathers to use to embellish your baskets.
More Basketry Supplies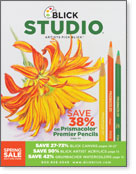 Request a FREE
480-page Art Supply Catalog!
Gone Country Graphics
Original country graphics on CD and affordable professional craft website design. Free graphics, free pagesets, country graphics, sig tags, custom graphics, banners, logos, linkware, country clip art and more are waiting inside! Free page sets include a coiled country bee skeps with a fall pumpkin or sunflower theme.

Horse Tails For Basketmaking And Crafts

Horse tails that have been cut, washed, combed and ready for your craft work. Used for raku pottery basketry, braiding, jewelry and tassel work.
More Basketry Supplies
Natural and Dyed Porcupine Quills
The Crows Nest offers a colorful selection of dyed as well as natural porcupine quills to use in birch bark box making and basketry.
More Basketry Supplies
Come and Join in the BasketMakers Forum. Lots of friendly basketweavers are gathered there. Click on "Guest" to enter and read-only or join if you want to post (it's free).
Here is a list of some of the most recent Topics being discussed:
Copyright © 1998-2013 Susi Nuss. All rights reserved.

---